I'm in heaven now - Cool!
I can check everything out from here.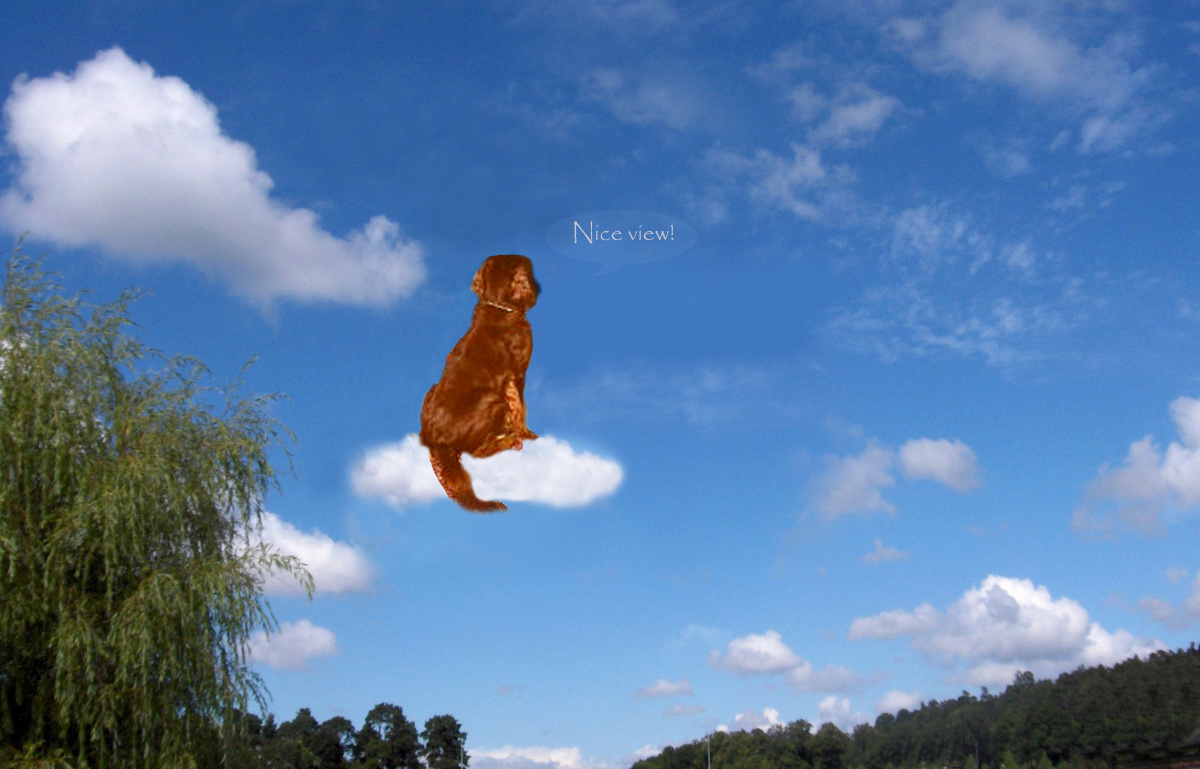 I will tell you about what is happening at home
When I had passed over the Rainbow Bridge my Matte cried every day for months but then she decided to take care of other dogs because otherwise she would not get her walks. She took care of Zeb, a Lagotto Romagnolo,
because his Matte had to work all day. He is here with me now because he got sick. He is fine now and we can play.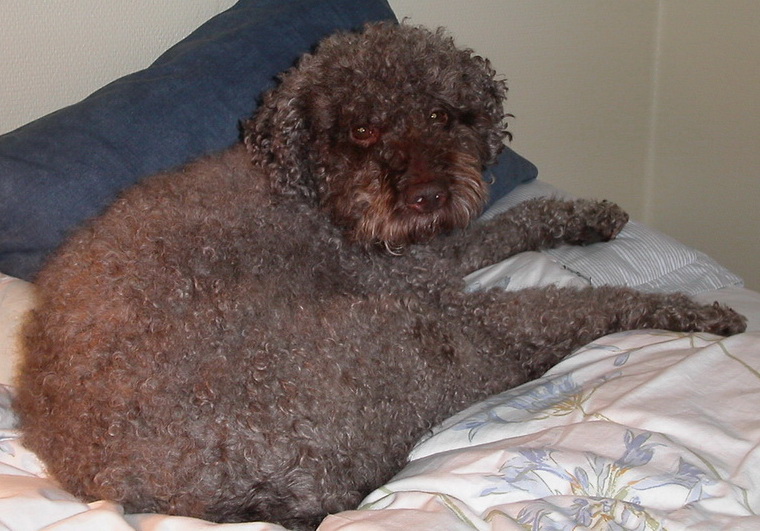 He was allowed on Mattes bed and he used my basket too!
Well Matte had to get her walks again so she found a family on the Internet. They were moving to our island and needed someone to take care of their Jack Russel terrier so he didn't have to be alone all day when they were working. He is ten years old and very nice, but he doesn't like other dogs much so he has to have a leash. He had problems over New Year with all the fire works so now Matte has to take him in the car and walk him away from home. He is very stubborn, worse than I was, she says. I was ok with fire works..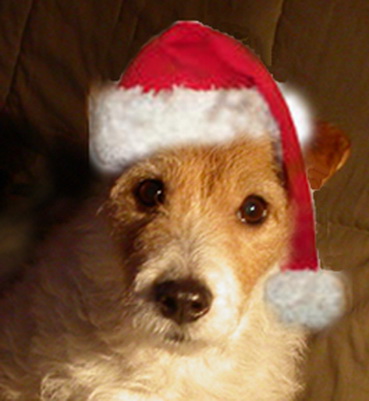 Poor Max - stupid hat. Matte thinks he is cute...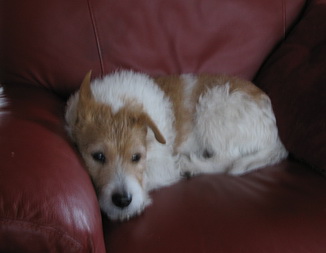 He is allowed on the bed and all the chairs;
I suppose its because he is so small.
---
It seems like Matte feels lonely at night because now Tage is
coming here several nights for a sleepover. In Mattes bed!!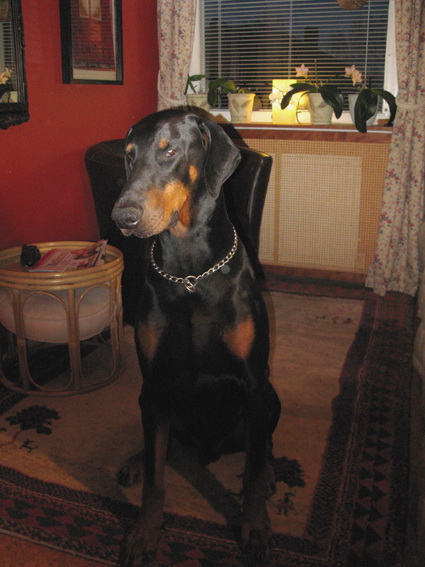 This is Tage. He is huge and very handsome.
He cried because he was missing his Matte
but now he cries only a little and Matte gets
to sleep the whole night through.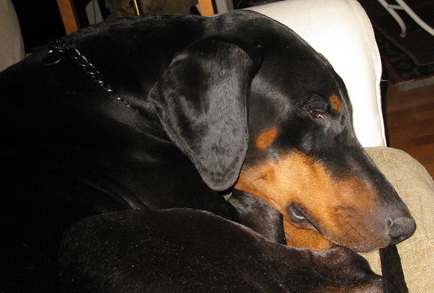 Tage's Matte was very sad because Tage had so many problems
with his back and his tummy. They couldn't cure him, so the best
for him was to come to me here in Dog Heaven. So he is fine now.
Matte did not have a dog to walk with so she put on weight. Not good but eventually
she got a tip about a dog who needed someone to take him out for walks. Great!
Matte now walks four days a week with Amarillo, a beagle. Here is a picture of him.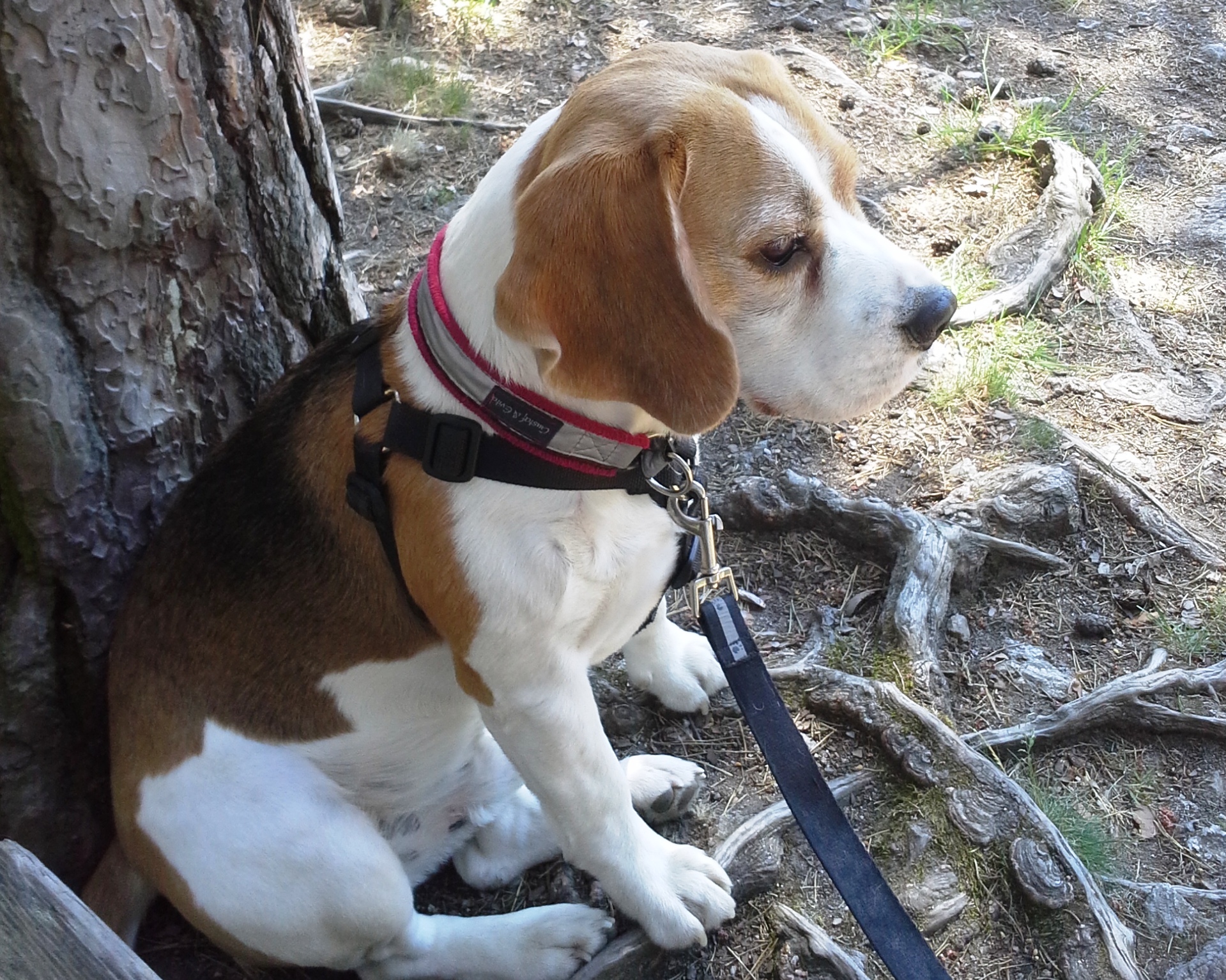 Matte likes him a lot because he walks nicely on the lead.
He thinks that it's alright to take the treats out of her pocket when she is not looking.
He can sit, lie down and make high five and thats cool.
---
---
One of my Matties is a doggy walker at the dog shelter. Whenever she can she takes a dog for a walk in the nearby forest. Some weekends she brings the dogs to our home so they don't have to spend so much time in the kennels. Nice of her...
First came Ebba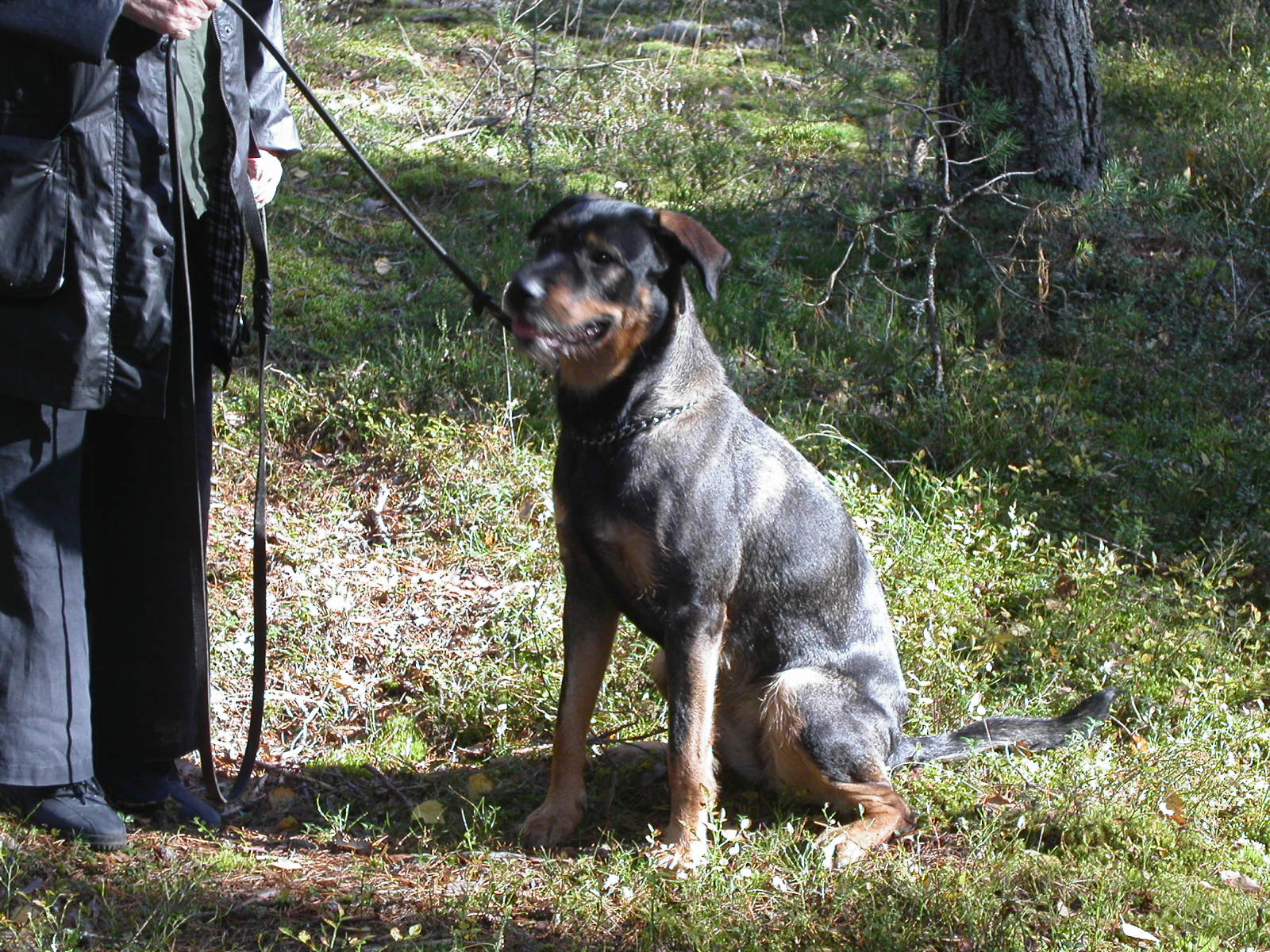 They liked her, but I don't like bitches much...
Then came Azzar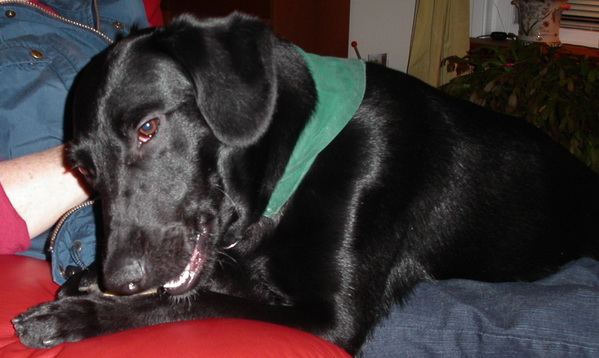 He was a lap dog but he barked at the children when they were sleeping.
That was wrong, but he was only a pup, so I suppose he didn't know better.
Then came Frodo
He is an Irish setter, so my Matte was excited and gave him extra
much attention because she said that it felt nearly like me.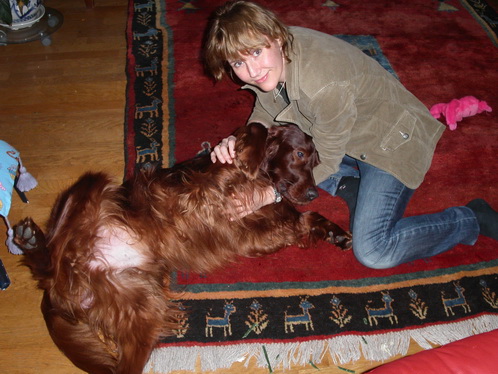 They wanted him to come back but he has got his own home now.
Then came Lisa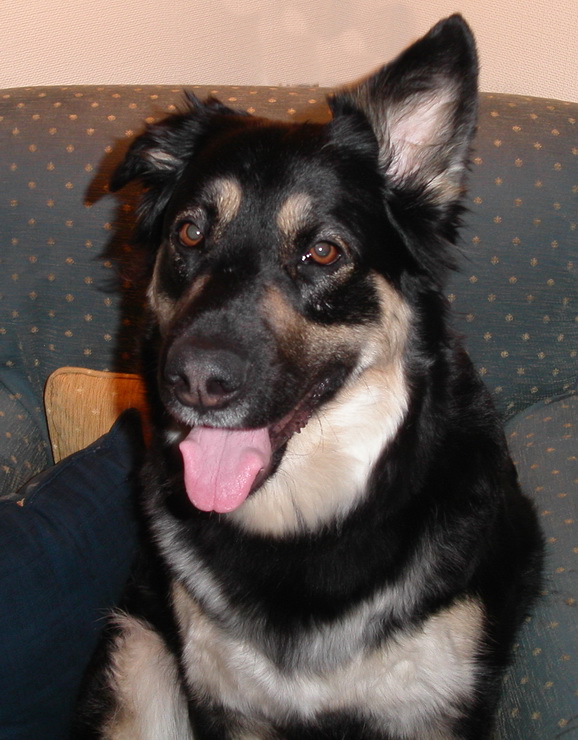 Everybody liked her, but she is still a bitch...
Then came Tjabo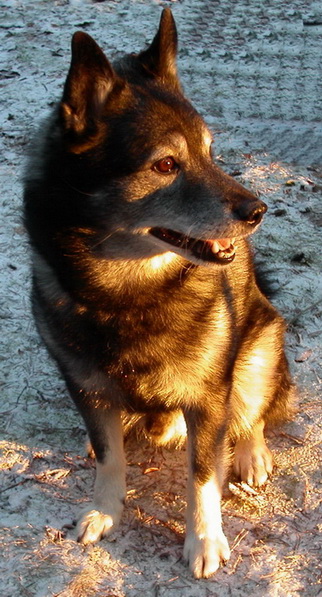 He is a Norwegian Moose dog. The Matties liked him a lot. He did not go on the furniture or my basket.
He was nice to the children and loved his walks and he didn't pull. He came to our home over Christmas and New Year.
When he heard the fire works he didn' want to go out. That's a problem for a hunting dog.
He came to us twice. I could like him too and teach him how to play.
Then came Atlas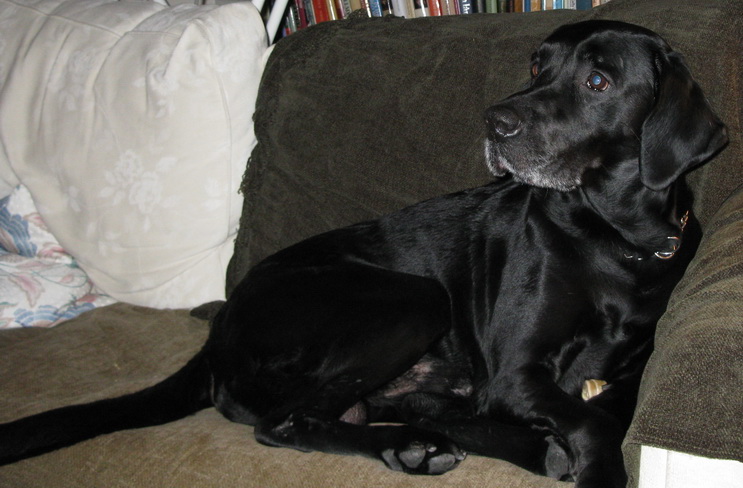 The Matties called him Slipperthief because he stole Mattes slippers but he did not chew on them,
so maybe he just wanted to play. He is six and he liked the bed and the sofa and my basket.
Then came Lexie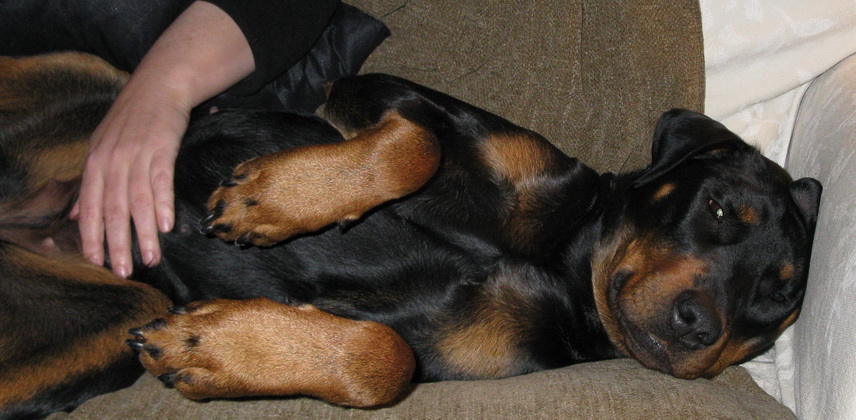 She was a Doberman/Rotweiler mix and a little afraid, so she wanted to be near someone. She had a stomac problem so she vomited and had diarrhea and I have had that several times so I know how that is. My Matties felt sorry for her and patted her a lot.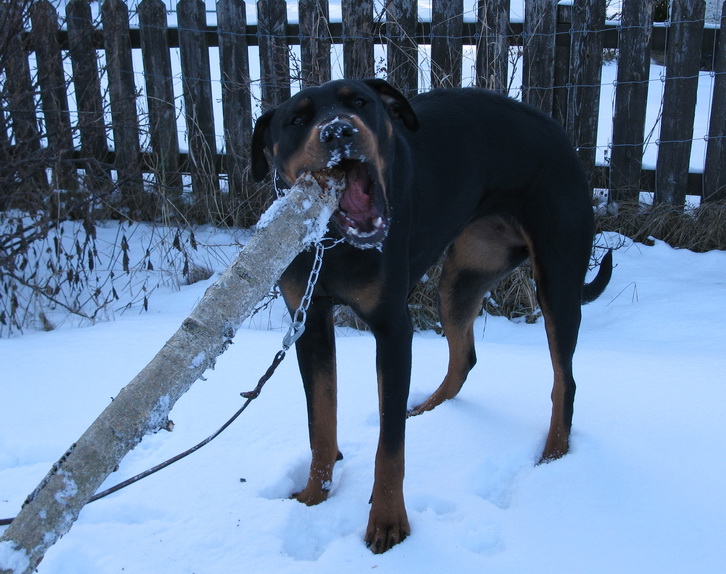 The next day she felt better and found a huge stick to bite on.
Then came Hybrida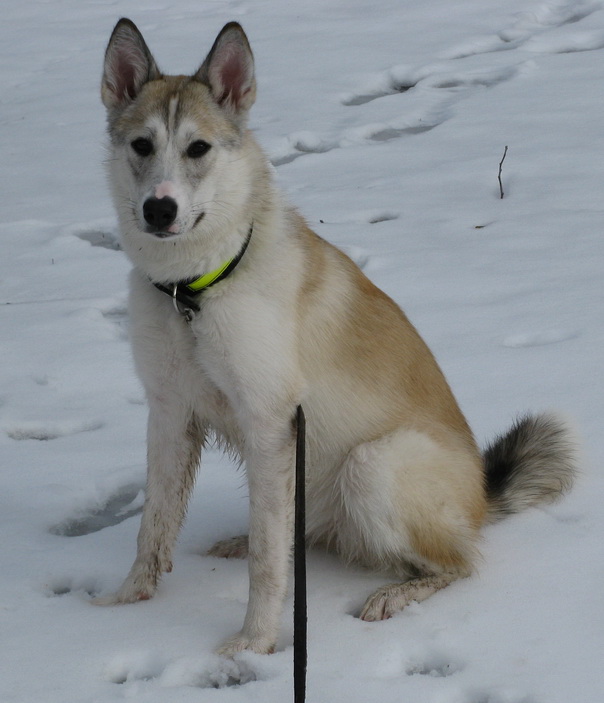 She was 7 months old and she had a hard puppyhood together with her siblings. They were found in an apartment with no food and water.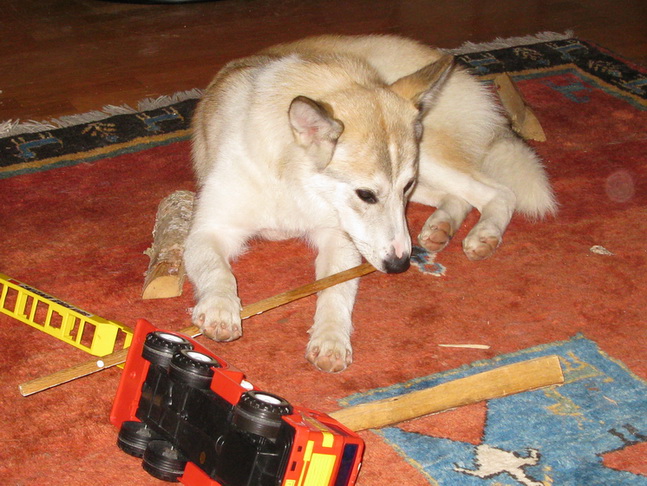 She gave my Matties a hard time because she stole everything she could get her paws on. She took the bag of food that was meant for next day, and then she had diarrhea twice on the carpet. My Matties knew she was not properly house trained so they shouldn't feel sorry for themselves. She sat in my bed and in the sofa too. She loved her walks and my Matties said she is a nice dog.
Then came Abisko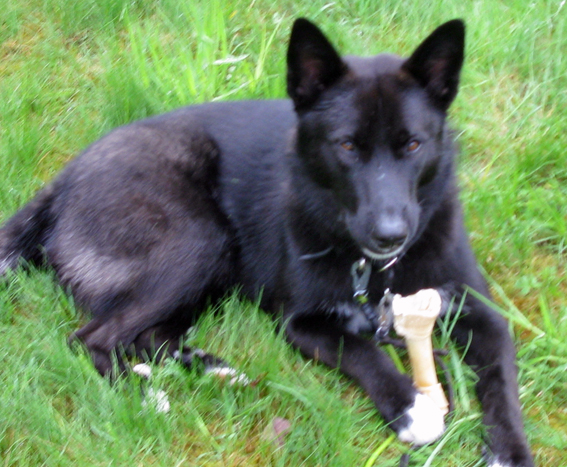 He is Hybridas brother and he was very afraid of people when he first came to the dog shelter.
He was much calmer now and liked to play and lie in the garden and chew his bone. He didn't
go on the furniture or on my bed.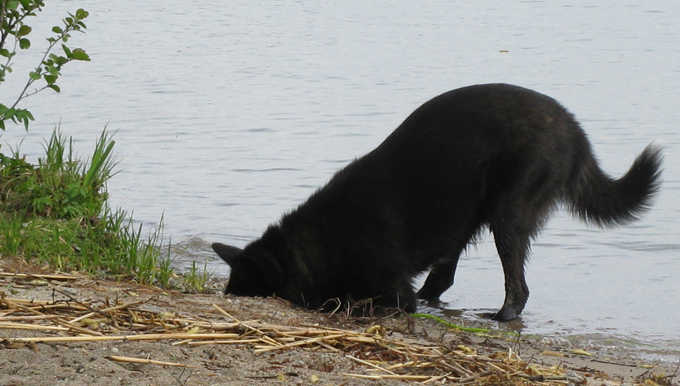 Abisko loved to dig loads of holes in the sand. Thats ok because he was not allowed
to dig in Mattes garden.
Then came Lily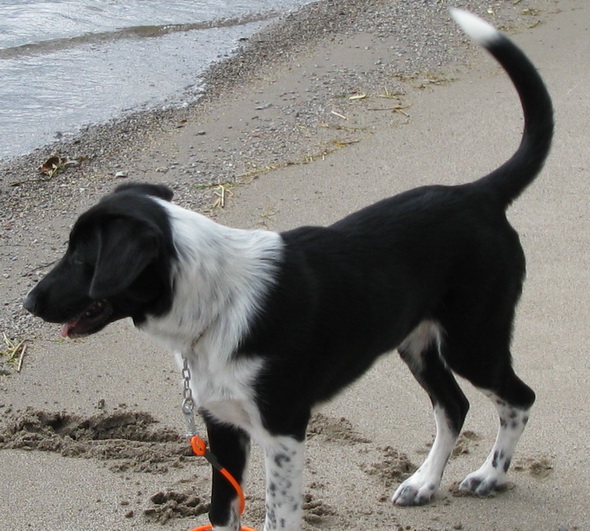 Matte said she was a little unsure and barked at the children. Otherwise nice and playful.
---
---
It's January 2010 and we had a visit from another Max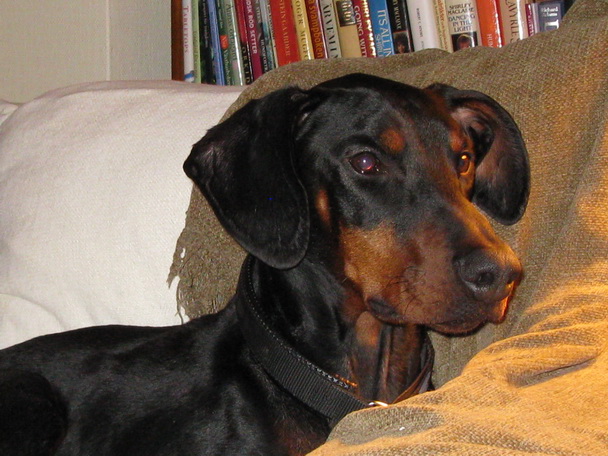 He is only one year old and the Matties said he was very good.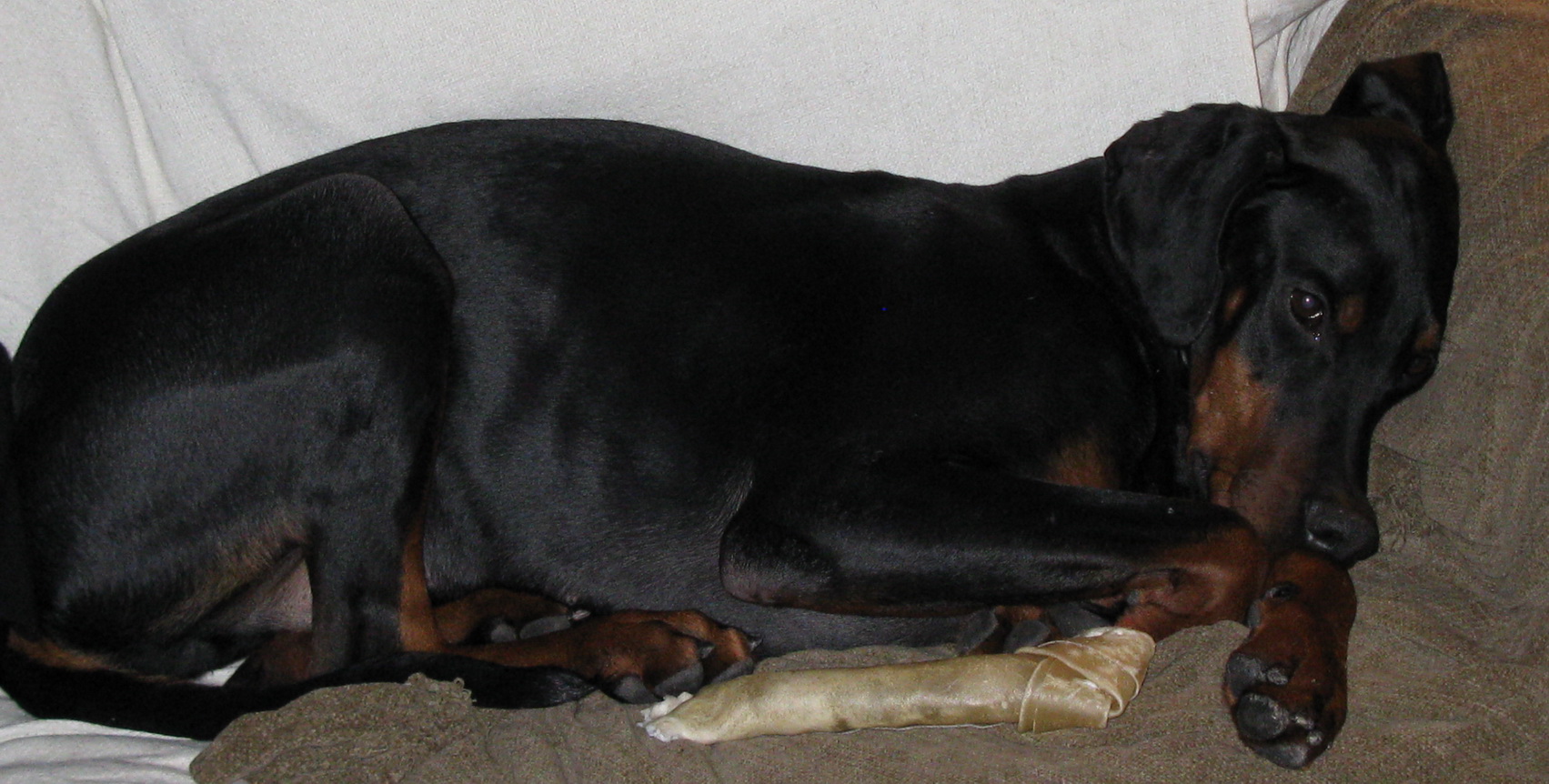 He loves his food and goodies and Matte let him lick the plates after dinner, like I did.
He stole som butter in the kitchen and then he got a bone to chew instead. When he
had his walk in the nearby forest, Matte saw a deer and Max got the scent and then
he pulled so hard that my Matties could hardly hold him back. When I saw a deer
Matte tought me to sit down and watch them, so I did.
---
Then came Hugo
What a difference in size between a Dobermann and a Chihuahua-mix. He was a bit reserved at first, but
soon felt at home. My Matte thought it was really cute when he came running in the morning and laid himself under her chin.
---
Then came Ofelia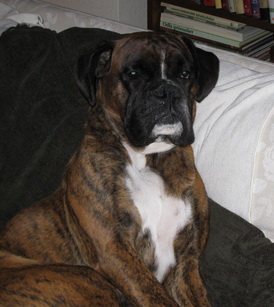 She is a 6 year old Boxer and Matte thought she was very well behaved.
She loved her food and Mattes food too. Very playful and friendly (like me)
Matte was certain that she would have a family of her own very soon.
---
Then came Ronja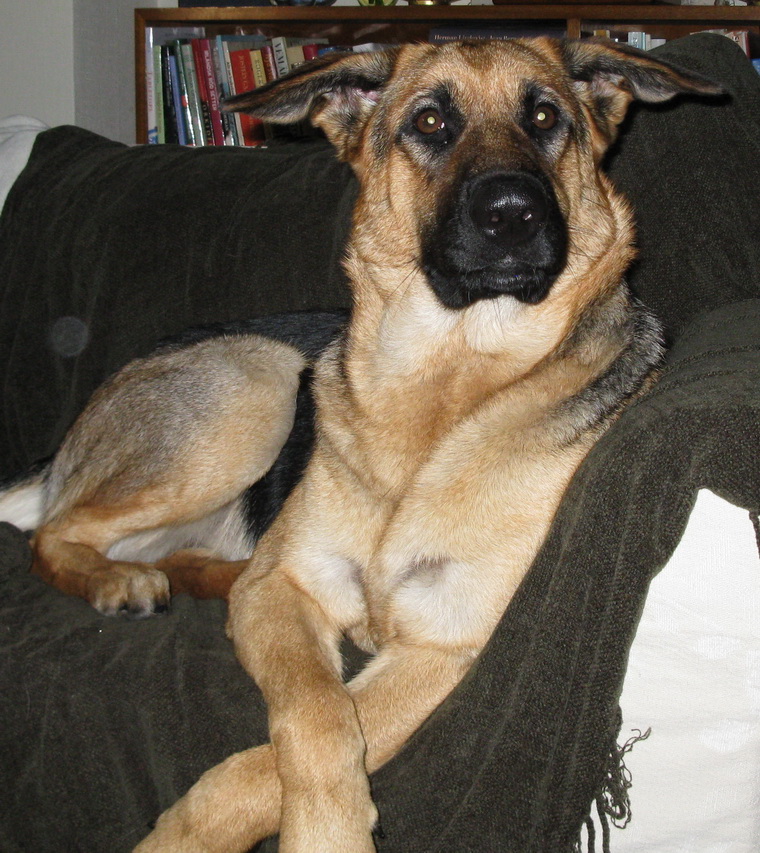 German shepherd one year old.
My Matties liked him, he was playful and settled down in my home quickly.
He liked the children who came to visit and loved running around outside with them.
Other dogs was a problem even when they were small and far away.
I didn't like all dogs either.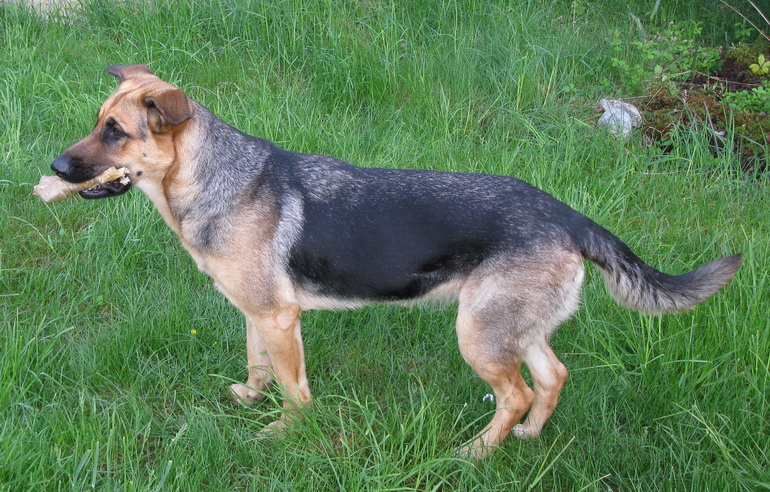 He liked to fetch the chewing bones
---